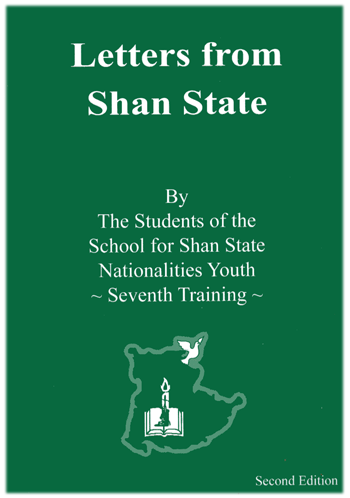 By
The Students of the
School for Shan State Nationalities Youth
⇒ Seventh Training ⇐
© 2007
This book is dedicated to all those who have sacrificed their lives for the democracy movement in Burma, and all those inside and outside Burma who support the freedom of the people. We would like to give special thanks to our donors, the board members of SSSNY, our School Director Nang Charm Tong, and all the teachers and staff.
Introduction
This publication was inspired by Daw Aung San Suu Kyi's 1998 book "Letters from Burma," which detailed everyday life inside the isolated Southeast Asian nation. Daw Suu deftly combined stories of everything from the seemingly mundane (fixing a leaky roof), to the joyous (the popular Water Festival), to the tragic (the plight of political prisoners) in order to give the reader a full sense of life in Burma. Moved when reading short passages from the book on Daw Suu's birthday earlier this year, SSSNY students began work on writing their own experiences as citizens of Shan State. Their stories, after three edits, various conferences, and much discussion, now appear here in "Letters from Shan State." The wide range of topics and emotions covered in their essays speaks to the complexity of life in Burma. Stories of horror, grief, and death are coupled with stories of celebration and blissful moments. In this juxtaposition, readers may get a sense of the lack of flow or rhythm to life in Burma; that at any moment a child's playtime or a cheerful marketplace can turn into a battlefield. Through this collection of stories, readers see the suffering, but also the indomitable spirit of the people of Shan State; their will and successful effort to maintain some sense of normalcy and native culture despite the chaos that surrounds and at times engulfs them.
Perhaps the readers may also see that they are not so very different from the students; that like all people, these students enjoy favorite foods, festivals, and visits to new places. They remember fondly a beautiful day, a big dinner, a family gathering. At times, like all of us, they suffer and struggle to go on. As people from Shan State, from Burma, from Asia, from the world, let us find in these texts not just individual and unique stories of great importance but also the threads of shared human experience, and therefore, a shared responsibility to support the freedom of the people in Shan State and Burma.
Thank you for supporting SSSNY through the purchase of this book. Please enjoy and share the stories of these students from Shan State.
Amanda Czarnecki
Teacher, SSSNY
October, 2007